HTDP 004  KaNa - Infinity 2022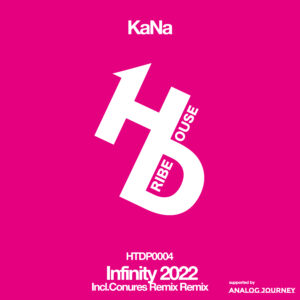 1.Infinity (2022 Rework)
2.Infinity (Conures Remix)
Beatport
https://www.beatport.com/release/infinity-2022/3642636

-Information-
Housetribe Deepからのリリース第三弾は国内外のMelodic Progressive ~ Progressive Tranceにおいて
高い人気を誇り、同時にサブカルチャーシーンからも熱烈な支持を得ているプロデューサーKaNaによる2017年の
名曲"Infinity"が最新Mixesと共に登場。
Part2の目玉となる2022 ReworkはKaNa自身による最新のセルフリメイク。
過去と未来が交錯する原曲"Infinity"の振れ幅が更に進化した
レトロフューチャーなハウスサウンドを展開している。
RemixはHousetribe Deepのファーストリリース"となったHigh Low Tech"のアーティストConuresが提供。
エモーショナルなストリングスとベースラインが印象的なワークで和製ハウスファンには勿論、
Nu Disco辺りを追っているDJ ~ コアなディガーにもチェックして頂きたい。
The 4th release from Housetribe Deep, KaNa is a popular producer in the Melodic Progressive ~ Progressive Trance scene and Subculture worldwide.
her hit tune 'Infinity' was originally made in 2017, a reconstruction of the 90's feeling and the golden age of house sound. In the year 2022,
the old school sound has become a new thing in the global club culture, especially for the new generation.
2022 Rework, is the latest self remake by KaNa.
It is a retrofuturism of house sound that has evolved further from the original 'Infinity',
Remixer 'Conures'  is an artist of Housetribe Deep's first release 'High Low Tech'.
The impressive work with emotional strings and bassline will appeal not only to  House fans but also to DJs & digger who follow Nu Disco.