HTDP 005  DJ Shu-ma & Conures - It's Time To Get Down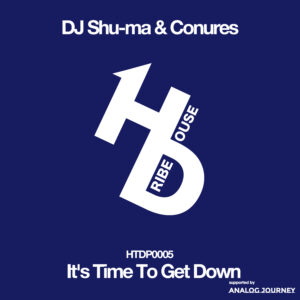 1.It's Time To Get Down
Beatport
https://www.beatport.com/track/its-time-to-get-down/16284040
itunes
https://music.apple.com/jp/album/its-time-to-get-down-single/1611792181
Spotify
Juno Download
https://www.junodownload.com/products/dj-shu-its-time-to-get-down/5490702-02/
Traxsource
https://www.traxsource.com/title/1767372/its-time-to-get-down
-DJ Support-
Sasha (Last Night On Earth) "Cool Track!" 4/5
Issac (Last Night On Earth, Fade, Looq, Stripped,AlterImage, We Are Here)
"It's Time To Get Down" for me.  5/5
Horse Meat Disco (Severino) (Trailer Trash , Fabric, Barcode, residency in Paris / Berlin / Nyc)
yes cool vibe "It's Time To Get Down"4/5
Definition (Dimitri Schnider)
Downloaded for Denifition, Thanks for the music!! 4/5
Whitesquare
Thank You, Good Stuff 4/5
-Information-
Housetribe Deep5番目のリリースはIbizaのハウスシーンのトレンドをいち早く日本へと届け、
Ibizaを代表するクラブAmnesiaの偉大なるレジテントDJ Les Schmitzとのコラボレーションや
Manuel De La MareやAlex Kenjiらが設立したHotfingerのレーベルアーティストとしても
活躍を続けるDJ Shu-maとBalance MusicやLost Langauge, Trident Musicなど国内外のProgressiveレーベルで
精力的な活動をみせ、Housetribe DeepのファウンダーでもあるConuresとのコラボレーションが実現。
Deepでファンキーなベースラインと古き良きアメリカのハウスシーンを髣髴とさせるような極上の上物、そして
過去から現在に至るまでどの時代のシーンでも受け入れられ続けるであろうDJユーズなプロダクション。
ベテランでありながらシーンの最新を追い続けてきた両者でしか無しえないハウスグルーヴがそこには存在している。
Housetribe Deep's 5th release consists of a collaboration of two veteran DJs / artists in Japan
DJ Shu-ma is a brings the latest trends in the Ibiza house scene to Japan.
He had a collaborated with DJ Les Schmitz, the great resident of Ibiza's leading club Amnesia.
also DJ Shu-ma belong to label artist for Hotfinger, the label founded by Manuel De La Mare and Alex Kenji.
Housetribe Deep's founder Conures, who has been active on progressive labels in Japan and worldwide,
his tracks released by Balance Music, Lost Langauge, Trident Music, and many more...
'It's Tim to Get Down'with a deep and funky bassline, and a top-notch production that reminds us of the good old American house scene,
The production is DJ-friendly and will continue to be accepted in any scene from the past to the present.
the kind of house groove that can only be created them.
this is the perfect collaboration.