HTDP  Yamitonma - Tsukiyomi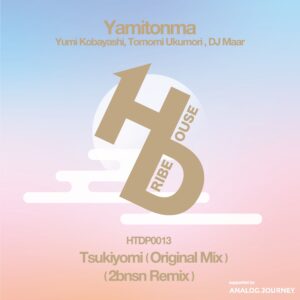 1.Tsukiyomi (Original Mix)
2.Tsukiyomi (2bnsn Remix)

-Information-

Housetribe Deep's 14th release is a special release by a top Japanese house DJ & vocalist unit that is making its debut.
Yamitonma are band THE ALEXX's vocalist Tomomi Ukumori, DJ Yumi Kobayashi an artist who continues to expand her range of expression beyond the boundaries of dance music, and DJ Maar, former member of DEXPISTOLS and current member of Fake Eyes Production.
The first release, 'Tsukiyomi,' is inspired by an ancient Japanese poem, 'iroha uta,' composed 1,000 years ago.
The song, which blends modern and ancient Japanese, ancient melodies and current deep house music, delivers a timeless message and sense of values to us.
remixer 2bsns also known for his releases on Embers Melody and Synth Collective Recordings .
amazing dramatic sound that blends the organic with the melodic.
-information from Yamitonma-
闇東麻  ふとした瞬間に全てが分かったような気がして、次の瞬間にはそれが錯覚であったこと知る。
誤解と歪曲の心地良さが好きなくせに形式的にはそこから出たい素振りをする。
納得しているのは理解しているわけではなくただ時を進めたいだけ。
重力というのがあるならば質量はその問いに答えてくれるのだろうか。
そんな日本語遊び言葉ハウスユニット闇東麻(ヤミ・トン・マ)。
バンドTHE ALEXXのヴォーカリストでもあるTomomi Ukumori
ダンスミュージックという枠を超え表現の幅を広げ続ける芸術家DJ Yumi Kobayashi
元DEXPISTOLSで現Fake Eyes ProductionメンバーのDJ MAARによる三人組。2023年ファーストシングル「Tsukiyomi」をリリース。