HTDP 007 Conures - Neptunes Blue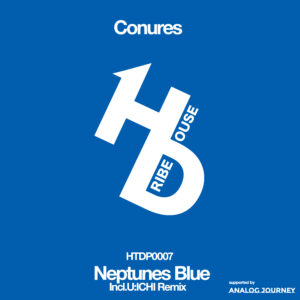 1.Conures Rework 2022
2.U:ICHI Remix
Beatport
https://www.beatport.com/release/neptunes-blue/3757590
itunes
https://music.apple.com/jp/album/neptunes-blue-single/1625891675
Spotify
https://open.spotify.com/album/6tJ33BYvGcHy89oRhKMa6p
Juno Download
https://www.junodownload.com/products/conures-neptunes-blue/5613001-02/
Traxsource
https://www.traxsource.com/title/1817310/neptunes-blue
DJ Support
HAFT, Satoshi Fumi, Joyce Muniz, Marco Faraone, Steve Lawler, HOSH, Alex Neri, Ricky Ryan, Alex Medina, Nicolas Masseyeff, Scott Bradford, Nic Fanciulli and many more.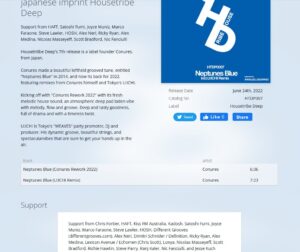 -Information-
Housetrtibe Deep7番目のリリースはレーベルの設立者で
Melodic ~ Progressive HouseのアーティストConuresによる
2014年のプロデュース "Neptunes Blue"
Leftfield系特有のアトモスフィックなメロディーと自由なグルーヴを
主軸とした"Conures Rework 2022"はOriginalの良さを継承しながらも
Melodic系のHouse & Technoシーンにも対応した1曲。
透明感のある曲の良さはそのままに、今のシーンに即した
クオリティーへと再構築されている。
東京での同ジャンルの象徴的なパーティーとして多くのビッグパーティーを
企画している"WEAVES"の主催で東京のみならずスペインやヨーロッパでの
活動も注目を集めるU:ICHIによるRemixは、より大箱向けのサウンドへと
対応した完全フロア対応のDeep Progressive。
圧倒的なグルーヴ、美しいストリングス、ハンズアップ間違いなしの
壮大なブレイクはクラブ、野外の場所を選ばず支持を集める快作といえるだろう
Housetrtibe Deep's 7th release is a label founder Conures.
he is a melodic & progressive house artist in Japan.
Conures made a beautiful leftfield groove tune "Neptunes Blue" in 2014.
"Conures Rework 2022" is convert with morden melodic house sound.
atmospheric melody, flow groove, and reconstruction of latest conures works.
the remixer U:ICHI is a symbolic party "WEAVES"'s DJ & organizer  of this genre in Tokyo.
He has organized many big parties and is active in Japan as well as in Europe.
"U:ICHI Remix" will be popular in big club room and outdoor venues.
dynamic  groove, beautiful strings, and spectacular breaks that are sure to get your hands up.
this is a perfect floor track of deep progressive house.